Restore your smile with a fixed denture in Cutler Bay
If you have lost an entire arch of teeth (top or bottom), a complete fixed denture/s treatment may be right for you. 
Dr. Gonzalez specializes in implant dentistry and complete smile reconstructions.  Fixed dentures over implants is the ideal care for missing teeth.
Fixed dentures are preferred over removeable dentures because they:
•
Look and feel just
like natural teeth
•
Won't move or slip while eating or talking
•
Dental implants prevent
bone loss in the jaw
•
Have a high success rate
What to Expect
The surgery for a fixed denture is a simple routine procedure which is done under local anesthesia.  If removal of teeth is needed, it would pe done prior to surgery or on the same day.  The appropriate number of implants will be placed in your jaw at precisely planned angles and positions to maximize support.  Depending on how many implants are needed, the surgery can take anywhere from one to three hours. Most people who have dental implants placed find that any post-operative discomfort can be managed with over-the-counter anti-inflammatory medication such as ibuprofen.
Immediately after surgery, we can typically attach temporary teeth so that you can leave the office with new teeth.  It will take a few months before your permanent replacement teeth are installed in order to give time for your dental implants to fuse to your jawbone.  This process is called osseointegration.
Ready to take control of your smile?  Call today to request your FREE consultation.  305-256-1303
Request your free implant consultation today!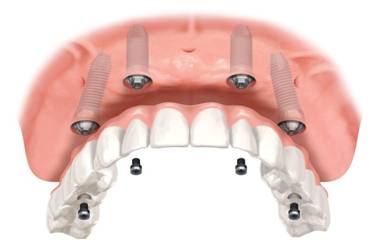 Address
19151 South Dixie Highway. #206
Cutler Bay, FL 33157